A special thanks and shoutout to Kristen Sara at
While We're Waiting
for picking me as the winner to her first blog giveaway! I've never won a blog giveaway before so I'm super excited! This definitely helps brightens my otherwise gloomy Monday morning.
Because work is fairly hectic today and I should probably be doing something productive to earn my paycheck (and unfortunately blogging doesn't count) here's a quick recap of my weekend-
-Friday night Kristian and I went to Hard Times cafe to listen to some live music and gorge on chili...which came back to haunt us both later that night.
-Saturday we woke up and went to Silver Diner to gorge on some yummy Chipped Beef and eggs (sensing a pattern to the weekend??)
-Saturday afternoon I met up with my mom to go order my wedding dress!!! It's official I have a wedding dress...or at least I will in about 6 months once it arrives. I tried it on for her and I loved it even more the second time around. Also, my mom ordered her dress!! I absolutely love it, it's very classy and elegant and looks beautiful on her. It will also go nicely with my dress. It's pretty much the complete opposite of what she set out to buy but isn't that usually how it works?
-Saturday night I went out for apps and drinks with my BFF Colleen. We went to a restaurant/bar near my place in exciting Woodbridge. We had a great time catching up and letting some old dude buy us drinks. However since we were sitting outside I walked away with about 25 mosquito bites on my legs/feet.
-Sunday we went to visit K's grandmother and unexpectedly received our first wedding present! She had already ordered it and figured why not give it to us now so we can start using it. She got us a fantastic Pro HG Wok which apparently is a very nice brand of cookware.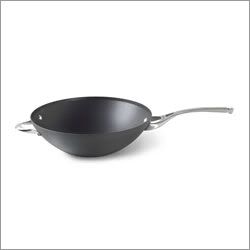 I'm not familiar with the brand b/c A. I don't cook a lot and B. I don't have the money to invest in nice cookware. Anyway we were both very excited to get this and can't wait for all the yummy dishes we can make.
-Sunday afternoon we stopped by his parents house because they also had a gift for us...a beautiful oil painting of the ocean with waves crashing over the rocks. It's huge and will fit perfectly over our couch in the living room. Afterwards we came home and Kristian made an AMAZING Rockfish stew and we watched a movie in bed.
Overall it was a pretty great weekend!