Well a cat mom that is. Today is the one year anniversary of me bringing home my furry, four-legged son from the vet after having his manhood removed. Two days prior I had gone to the Fairfax County Animal Shelter and adopted him, however they don't allow you to bring them home until they are spayed or neutered.
I always grew up with pets but I had never had one of my own and after finally moving into a pet friendly apartment I decided to embrace my future as a single, crazy cat lady and adopt a little fur ball of my very own. The funny thing is that I almost ended up with two other cats. First, I almost adopted a kitten that a friend of my aunt's had found, however by the time I was in my new place and ready to bring the kitten home he decided he wanted to keep it after all. Then when I went to the shelter I was in the back room looking in all the cages and spotted a tiny orange tabby that was super cute. I went out to the front to ask if I could see the kitten outside of the cage and when we went back another little brown tabby had appeared (apparently he had been busy doing his business in the litter and I didn't see him). So they took both out for me to play with. I had the hardest time choosing because they were both adorable and very playful. The woman looked at the sheets again and discovered the orange tabby was actually still too young to adopt so that made my decision easy and I went with the brown tabby.
I decided to name him Halpert after my fictional t.v. boyfriend Jim Halpert from The Office. When trying to come up with names I didn't want something generic and I wanted the name to have some meaning to me. So I figured why not name him after something I love and anyone that knows me in real life knows I LOVE Jim Halpert. The name actually really suits him and his personality, in fact the very first thing he broke was my Dwight Schrute bobble head doll. Ironic?
Halpert really has brought me so much joy over the past year and he makes me laugh all time. He has such a funny little personality and he's always wanting to play or cuddle. I can't imagine my life without him and I highly recommend anyone that doesn't have a pet to immediately go out and get one whether it's a cat or a dog or a goldfish.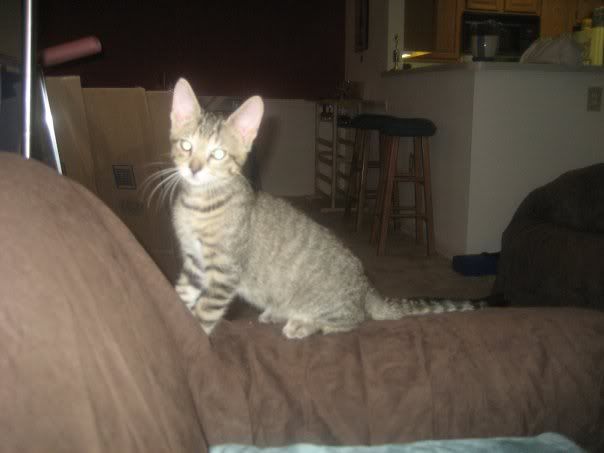 (Halpert's first night at home...he weighed only 3 pounds!)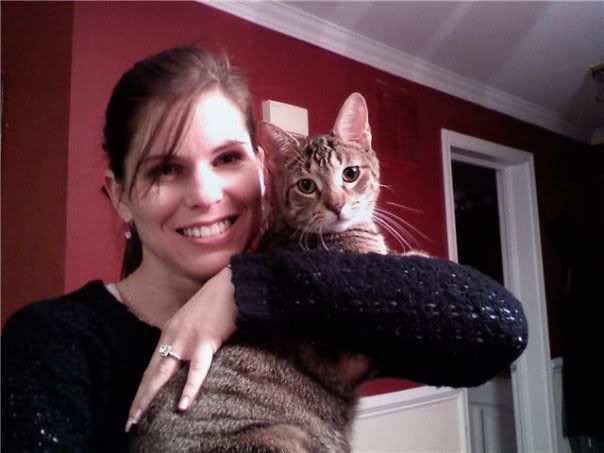 (Halpert and I this past winter, he finally grew into his ears!)