I was tagged for a fun little survey by one of favoritest people
Kristen
. My brain is still mush from the amount of work I've had that past week so this is perfect...I don't need to try to think of something fun and creative on my own.
WHAT'S YOUR CURRENT OBSESSION?
Well I guess the main thing would be wedding planning and it's not just because I'm currently planning my own wedding, I've pretty much always been obsessed with weddings and pretty things in general. What's not to like? Two people who are madly in love, dressed to perfection, professing their love in front of their nearest and dearest...I can't help but tear up whenever I see a wedding...and I'm sure I will be an absolute mess at my own.
WHAT IS YOUR HOROSCOPE AND HOW DO YOU RELATE?
Taurus, the second Sign of the Zodiac, is all about reward. Unlike the Aries love of the game, Taurus loves the rewards of the game. Think physical pleasures and material goods, for those born under this Sign revel in delicious excess. They are also a tactile lot, enjoying a tender, even sensual, touch. Taureans adore comfort and like being surrounded by pleasing, soothing things. Along these lines, they also favor a good meal and a fine wine. The good life in all its guises, whether it's the arts or art of their own making (yes, these folks are artistic as well), is heaven on Earth to the Taurean-born.

It's the Bull that serves as the Taurean's mascot, and along with that comes the expectation that these folks are bull-headed and stubborn. Yes, they are. Hey, this Sign has a Fixed Quality attached to it after all, so expect that things will occasionally grind to a halt. That said, Taureans don't start out with the intention of getting stuck. They simply want to get things done, and it's that steady, dogged persistence that winds up being viewed as stubbornness. Bulls are actually among the most practical and reliable members of the Zodiac, and they are happy to plod along, as it were, in pursuit of their goals. The good news for Bulls is that once they get to the finish line, they'll swaddle themselves in material goods. A self-indulgent beast? Perhaps, but if you toiled as laboriously as these folks do, you'd need some goodies, too.
Yep that sounds about right.
WHAT ARE YOU WEARING TODAY?
Well at the moment I'm wearing capri yoga pants and a white and blue baby tee b/c I still haven't changed since I got home from the gym. However to work I work dark blue jeans, a beige short sleeve sweater, a brown coudory blazer and some flats.
WHAT IS THE LAST THING YOU BOUGHT?
Yesterday-Gatorade and a doughtnut for Kristian to help him get over his hangover and a Starbucks White Chocolate Mocha for me. Oh and personalized stamps from Zazzle.com for our Save the Dates.
WHAT DO YOU THINK ABOUT THE PERSON THAT TAGGED YOU?
As I mentioned she's one of my favoritest people. She's been there for me for the past 10 years through all my ups and downs and I'm forever grateful. Oh and she's not bad looking either :)
WHAT'S FOR DINNER?
You'd have to ask the future hubs since he's the chef in this little family
WHAT'S YOUR FAVORITE DECADE FASHION WISE?
Well realistically I would say now simply because we have SOOO many options and more freedom than women did in the past. HOWEVER if we're talking about the clothing style I lurve well then I would say the late 50's and early 60's. I've been watching Mad Men lately and I'm kinda obsessed with the fashions. The women all look so put together with their hair, heels and pearls and the men always in suits...Yes please. However I would never have the patience or motivation in the morning to make myself look like that.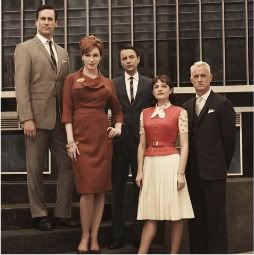 WHAT ARE YOUR MUST HAVES FOR SUMMER?
Let's see, flip flops, maxi dresses, tank tops, pedicures, sunscreen and ponytails.
WHAT WOULD YOU LOVE TO BE ABLE TO AFFORD?
Umm my wedding...yes trying to figure out how to pay for this fabulous shin dig keeps me up at night. I can only keep my fingers crossed that we hit that Mega Millions one of these days.
WHAT IS YOUR DREAM JOB?
John Krasinski personal assistant and love slave. Though his new fiance and my fiance probably wouldn't like that. *sigh*



DESCRIBE YOUR PERSONAL STYLE?
Well I'm definitely not the most stylish person in the world, hence why I love reading so many fashion blogs, however I'm also not topping the worst dress lists. I would say I'm pretty casual but also like to look saucy from time to time. Favorite stores include, H&M, Forever 21, Charlotte Russe and of course Tar-Jay.
WHAT ARE YOU PROUD OF?
I have a lot to be proud of actually...I'm proud that I graduated from ECU in 4 years (which is a pretty big accomplishment if you are familiar with ECU). I'm proud that I have a good job that pays me well. I'm proud that I've been able to keep my cat alive for a year (considering the way I have a tendency to kill plants who knew what was gonna happen) and of course I'm a proud, daughter, fiance and friend.