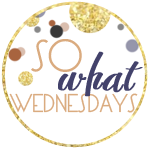 This week I'm saying So What if:
-Taking our family photos last weekend was a HUGE pain in the ass. Trying to get a wild toddler to look at and smile for a camera when all he wants to do is run around is basically impossible. I left feeling very disappointed that we didn't get any good shots. HOWEVER, I saw a couple sneak peeks yesterday and the ones I saw are SOOOO cute! My photographer is a magician.
-Hunters Halloween costume is pretty simple and basic and involves items that he can continue to use/wear after Halloween. Win/Win!
-I found out today that Hunter was holding a truck in his school pictures yesterday. The teacher said the room was full of toys to try to make the kids smile and he spotted a truck and refused to sit down unless he was holding it. I figure it's probably very appropriate since he's obsessed with trucks and buses.
-We don't have any pumpkins yet.
-Yesterday was my husbands birthday and we didn't do anything exciting to celebrate. He wanted to go hunting so I didn't even see him until 8:30. I did make him some cookies and had those waiting when he got home.

-I didn't buy my child any Halloween pajamas this year.

-On the nights when there is nothing good on t.v., rather than do something productive, like clean my house, I just go to bed early.