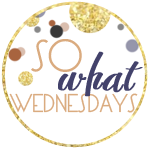 This week I'm saying So What if:
-I still don't have my sons Halloween costume. We know what he's going to be, we just have to get everything for it. Maybe this weekend.
-Saturday and Sunday morning Hunter and I hung out in bed for an hour while he watched videos on the iPad and I dozed off. It was rainy outside and Kristian wasn't home so we had a lazy morning both days.
-I can't ever walk out of Target without buying something for my child.
-I was a little glad that we had to cancel our family photos on Sunday due to the rain because Kristian decided to spend an extra day on his hunting trip and we probably would have had to postpone them anyway (since it rained, I couldn't really be mad at him for not getting home in time).
-I sort of miss my husbands beard that he grew for his trip (he shaved when he got home), I had kind of gotten used to it.
-I'm so sick of constantly having to buy my son new shoes because he literally wears holes in his. He drags his feet on the sidewalk when he's playing on his riding toys and it ruins his shoes.
-My kid went poop in the potty for the first time yesterday and I'm not upset that I missed it (he did it at daycare). I would have no problem if daycare takes the credit for a majority of his potty training.