I'm back from my wonderful long weekend! I'm in the process of catching up on the 100's of blog posts I've missed, celebrity gossip and DVR'd shows. Thanks to K's Crackberry I wasn't completely cut off from the internets. I made it all the way to Sunday night before I started to get the shakes and had to get my Facebook fix. However now I'm convinced that a Blackberry is on my MUST have list...I'm still rocking my silver flip phone from 2007. I'm sooo deprived...sympathy please.
Anyway the weekend started out with our trip down to Raleigh, we arrived at Krista and Todd's house at 8:30pm and stayed up til midnight drinking and playing Taboo. Taboo is such a fun game, basically you're given a word that your partner needs to guess and you have a list of about 6 other words you can't say in order for them to guess the main word. It's so fun to play especially when you are paired with someone you know really well. For instance I had the word "Pirate" my clue to Kristian was "ECU!" and of course he got it immediately. I love him :)
Saturday Krista and I went to get pedicures then she took K and I around the housing development where they live to look at some of the model homes. It's amazing for the same price K paid for his condo in Northern VA we could buy a brand new detached house with 3 bedrooms and a garage down there. We've now begun to seriously consider a move down to Raleigh as soon as we can unload our place and find jobs.
Later that afternoon my friend Spanky aka Ashley and her husband Morgan arrived as well as my friend Melissa (her nickname is too inappropriate to type) and her husband Dustin. I hadn't seen either couple since Spanky and Morgan's wedding last November and it was great to catch up! After putting on our fancy clothes we headed out to the 101 Lounge in Downtown Raleigh for the party.
(me and the boy...told you he was hot)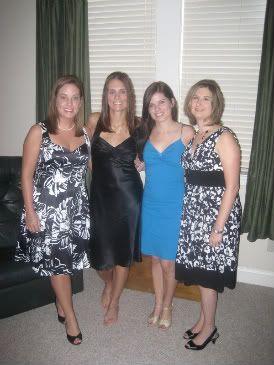 (Spanky, Krista, Me and Melissa)
We had a great evening drinking and catching up with a bunch of my other sorority sisters that came to the party. It was the first time that a lot of them got to meet Kristian and everyone seemed to get along fabulously. We finally made it to bed around 2am after lots of drinks and even more laughs.
Sunday morning Kristian and I got up around 7am (yes after 5 hours of sleep) and got on the road. We made it to his parents house by noon and after running down the checklist of everything we needed to do to close up the house when we left his parents were out the door and we were blissfully alone.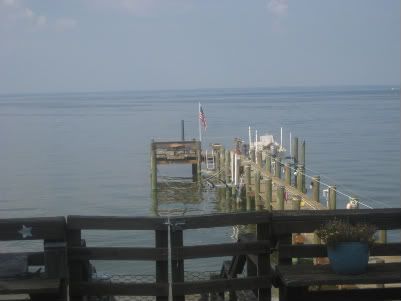 (view from the deck of the private pier)
Kristian spent the afternoon fishing while I watched and read my Cosmo. He even let me reel in a pretty large Croaker.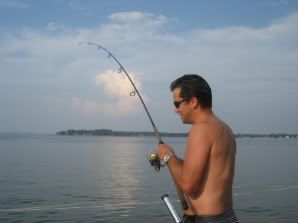 (yep he's hot)
The adventure of the weekend came Sunday night. I was sitting on the couch watching TV and he was on the floor tying knots in his fishing line and playing with his hooks. Next thing I know I look up and he's hooked himself. There was a very large hook (the type you use to catch sharks with) lodged deep into his middle finger and because of the bearing on the hook he couldn't just pull it back out without doing serious damage to his finger. So we went to the kitchen let his finger soak for about 30 minutes in freezing cold water to numb it, he took about 3 shots of Jack Daniels to numb the rest of him then .... well the video speaks for itself...
(warning, this is kind of gross and there's a bit of cussing)
After that adventure the rest of the time was smooth sailing, we woke up Monday and just relaxed outside and then K made an amazing steak dinner which we ate on the deck to celebrate our anniversary.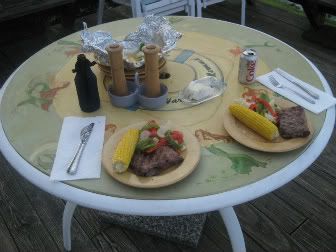 (sooooo good)
We woke up this morning went for a walk on the beach and then headed home to our very lonely kitties. Overall it was a fabulous weekend and I couldn't think of a better way to have spent our anniversary weekend.