We had a pretty mellow weekend. Friday night I came home and Kristian made a fabulous steak dinner with potatoes and green beans and wine. We ate on the balcony to enjoy the weather. Then we watched
Mr. Brooks
on DVD which stars Kevin Costner, Demi Moore and Dane Cook. It was a really good but slightly disturbing movie. It was odd to see Dane Cook in a more serious role from what people are use to. I thought he did a good job for the most part and overall I liked this film much more than any of his slapstick comedies.
Saturday we went yard-saling (not sure if I can turn that into a verb but oh well). We were on the hunt for a pantry/storage cabinet piece of furniture for the kitchen since we aren't having any luck looking around in the stores. After hitting up a few yard sales the only thing we bought were some x-mas lights for $.10 for a project that Kristian decided to do later on, involving an empty wine bottle, drilling a hole and stringing the lights thru the hole into the bottle. We now have a decorative wine bottle that we can light up. It's actually pretty neat.
That evening we went to see
The Hangover
with my new crush Bradley Cooper.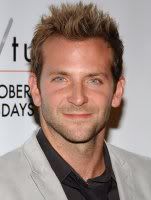 I've actually been a fan of his since his days on one of my favorite shows
Alias
. He also did a great job in
Wedding Crashers
and
He's Just Not that Into You.

It also starred Ed Helms from The Office, another favorite show. This movie was absolutely hysterical. We try not to go the movie theater very often since the prices have gotten out of control and Netflix is far cheaper and more convenient but I had heard so many good things about this movie I couldn't resist. I must say it was totally worth the $30 we spent on tickets/food.
The movie is about a group of four guys that go to Vegas for the weekend to celebrate a bachelor party which they stupidly planned for two nights before the wedding. Honestly, who does that anymore? I think people have wised up to having their bachelor/bachelorette parties at least a few weeks prior to the big day. Annnyway, they wake up the next morning with no recollection of what happened the night before and a missing groom. Then as they try to piece together the events of the previous night, shenanigans ensue. After seeing this movie I was even more thankful that Kristian does not plan to go to Vegas for his bachelor party because I could see him and his buddies having a few similar experiences. Oh and a special shout-out to the wedding scene at the end, this movie had the best of both worlds, raunchy toilet humor for him and wedding scenes for me!
We finished up the weekend having lunch yesterday with my brother and more unpacking at the condo. I also made a kick-ass homemade vegetable soup last night. I'm so domestic!
**Photo courtesy of IMDB