This Sunday my mother and I are going dress shopping...yes we will be shopping for THE dress. I am so excited. The only time I have ever tried on an actual wedding dress was when I was younger and I use to play dress up in my moms. She never cared since her and my dad were divorced so any sentimentality she had for the dress had long since disappeared.
It was really important for me to have my mother with me on at least the first trip to try on dresses. I know that most mother's dream of the day their little girl will grow up and get married and seeing them in a wedding dress is a huge milestone. Since I'm not expecting to decide on a dress on my first trip out (even if I do find one I love) I do plan to go shopping again hopefully with one or more of my friends. There is a
store
in Frederick, MD where my friend Kelli got her wedding dress that I want to check out, unfortunately they aren't open on Sunday's which was the only day my mom was free. Hopefully I will be able to get up there one Saturday and have Kelli go with me. It's always nice to have someone whose been through this already there to give advice. I also want to try to go shopping down in NC where my matron of honor lives. I think I have better odds of finding an affordable dress down there than I do in the DC area.
My mom and I decided to go check out
David's Bridal
this weekend. There is a large one about 30 minutes away and I figured that could be a good starting point for the dress hunt. I went online and actually found three dresses that I'm interested in trying on:
Style CT2406 (minus the red sash)
Style VW9469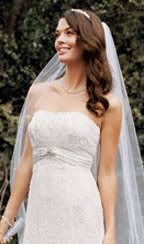 Style T9658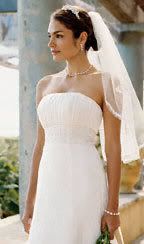 Right now what I'm interested in is a dress with a strapless (preferably sweetheart) neckline, A-line/Full skirt, and lace. For some reason I continue to be drawn to pictures of lace dresses. However I reserve the right to completely change my mind once I see how these look on me. For all I know I could end up with a satin, halter neck, full sequined, mermaid style dress...though I highly doubt it.
I've waited my whole life to find someone to marry and be able to try on/buy a wedding dress. I've been picking them out since I was around the age of 5 so I suspect Sunday is going to be a very exciting yet surreal experience and I'm so excited to have my mom there with me to do it.