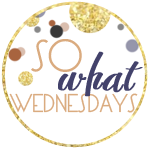 This Week I'm Saying So What If:
-I have teleworked the last two days because of the weather. I hate driving in snow and I'm not good at it. Plus I'm not really busy at work right now so anything that does come up I can easily do from home.
-Staying home with Hunter the last 5 days (including the weekend and MLK day) has made me wish I could be a stay at home mom. I'm loving this time with my little guy and I'm really not ready to go back to the office tomorrow.
-One of the main reasons I took Hunter out to play in the snow yesterday was to get some cute pictures. It's not often that we get a good amount of snow and I really want these pictures to look back on when he's older. I still get a kick out of looking at photos of me as a toddler playing in snow. On the plus side he absolutely had a blast.
-The other night we wouldn't let Hunter out of his booster seat until he ate at least some of his dinner. He's become extremely picky, especially at dinner time and bribing doesn't seem to be working. When Kristian was younger his parents wouldn't let him leave the table until he ate his dinner so we're working on that approach (within reason considering Hunter is only 2). Our goal is to get him to at least try his food before we let him get up.
-I haven't accomplished nearly as much as I should have the last 5 days being home. I have done some cleaning and laundry but I would rather play with Hunter and then just be lazy during naptime.
-I let Hunter watch two episodes of Mickey in a row last night so that I could make dinner in peace.
-I liked the movie Frozen more than Hunter did. If it had more trucks and buses in it than he probably would have liked it more.