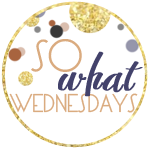 This week I'm saying So What if:
-I think it's a bit silly that schools were closed yesterday for cold. I realize we live in VA and aren't used to this but it's not FL. Kids do have coats, hats, gloves etc. It's called layering and if you are really that worried about your kid standing outside for the bus then drive them to school or keep them home. That's your choice. Schools were open today and it felt the same outside to me as yesterday did.
-I don't get the whole "my word for the year is _____". It just seems silly and pointless to me. Just make a resolution like everyone else. More than likely you won't keep it anyways.
-I was so happy that Kristian actually wanted to watch The Bachelor with me last night (I DVR'd it). He likes watching all the crazy chicks and it's funny to gets a guys take on all the girls and their behavior.
-I was incredibly annoyed that 3 items I ordered from Amazon Prime for Hunters birthday party a week in advance (Prime is supposed to deliver in 2 days) didn't arrive in time for his party due to the weather. We made due just fine without them and now I can send the items back for a refund which is nice but it was still frustrating.
-We still haven't fully cleaned up and put everything away from Hunters birthday party over the weekend. I just didn't have the energy on Sunday and now that I'm back at work I"m too tired in the evenings. Maybe this weekend we'll get our house back in order.
-I'm not planning on having any more of Hunters birthday parties at our house for several years, from now on we will do places like Chuck E Cheese or bowling or indoor activity centers where all we really need to do is bring the cake and goody bags. I've enjoyed doing his last two parties at the house with a fun theme but it is a lot of work and expensive and I think as he gets older he will enjoy going to fun places with his buddies more.

-All the stuff I had planned to do around the house during my two weeks at home didn't get done. Between the holidays and Hunters birthday and party the time just flew and I had other stuff to do or places to go everyday. Oh well.