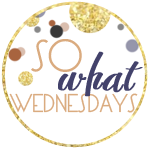 This week I'm saying So What if:
-I've been letting Hunter watch more t.v. in the evenings than we used to. By the time I get home it's dark and cold, we're both tired and I really like the snuggle time. Once spring comes I'm sure we'll be back outside playing more in the evenings.
-I turned down the chance to drink some of a $250 glass of Louis XIII cognac Friday night. My company had our post-holiday holiday dinner at Capital Grille (a fancy steakhouse) and my boss let the table order two glasses of Louis XIII cognac which is $250 PER glass. The bartendar was a little heavy handed and split up the two glasses so everyone could have their own tiny glass to sip on. I didn't try it because I don't like cognac and didn't want to waste it.
-I'm pretty sure I'm suffering from SAD or Seasonal Affective Disorder. I've just been kind of bummed out for various reasons and I know the cold weather, getting home when it's dark out and not really having any fun holidays coming up isn't helping.
-I'm going to tell Kristian to buy me a Valentine's Day gift this year. The past two years I told him he didn't have to get me anything, so he didn't, and I was secretly annoyed at the end of the day. So this year I'm going to just own up to the fact that I want something. Nothing expensive but just something little and cute, isn't that one of the perks of having a husband?
-I try to bribe my kid with dessert in order to get him to eat his dinner. He's become so picky lately and not wanting to even eat foods he's liked in the past so I tell him if he eats even some of everything on his plate he can have a treat afterwards. Sometimes it works, most of the time it doesn't.
-Our Christmas lights are still up outside. We don't actually turn them on but they are still up. Hopefully my husband will take them down this weekend.

-I haven't started Hunters 2 year photobook yet. It's such a time consuming task that I keep putting it off.