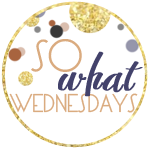 This week I'm saying So What if:
-I still have Christmas presents to buy and haven't started wrapping anything yet.
-Friday was so stressful at work that I was literally in tears on my way home. Fortunately all my major headache projects are now done which means my blood pressure can finally return to normal.
-I'm going to be really pissed if Kristian doesn't get a sizable bonus this year, he has worked his ass off and brought in more money than any salesman for that company ever in a year. He deserves it.
-I'm a gift card hoarder. I just went through my wallet this morning and found 12 unused/partly used gift cards. I think I might be doing some online shopping later today for myself.

-I'm so depressed that some of my favorite shows are on hiatus until Feb/Mar. What will I do without my Olivia Pope fix every Thursday??

-I can't believe my baby is going to be TWO in less than two weeks. Even though I miss my snuggly newborn, I absolutely love this age. Kristian and I both agree that Hunter is so much fun right now, I sorta want to freeze time and keep him at this age for a while longer.