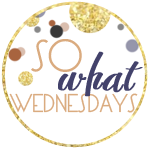 This week I'm saying So What if:
-We are not doing Elf on the Shelf this year. Hunter barely knows who Santa Clause is (and is terrified of him) and doesn't understand that he will be getting presents from Santa so I don't think he will get much out of the creepy elf that watches over him. Plus I'm far too lazy to do it.
-We didn't start decorating until last night. Not by choice but because our stuff was being held hostage in our friends storage unit while he was out of town for the long weekend.
-We may have bought ourselves several items while Christmas shopping over the weekend. A good deal is a good deal.
-All of the presents I bought over the weekend were bought online. I didn't want to go near a store. Also, Amazon Prime rocks my socks off.
-I hesitate to buy anything from a store that's not on
Ebates
. My next check will be the biggest one I've ever gotten.
-My kid is having more fun playing in the Christmas Tree box than he has with any of his toys, we may just return all his Christmas presents and give him empty boxes to play in.
-My husband wants to decorate the outside of our house "Griswold style" and I told him that was fine. I'm okay with our neighbors hating us for a few weeks :)