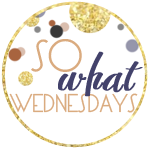 This week I'm saying So What if:
-We gave Hunter an early Christmas present yesterday. It was a gift from one of Kristian's coworkers and we were hoping if we told him Santa brought him a present early because he's been so good it would make him a bit less terrified of Santa. I really want to take him to the mall this weekend for pictures with Santa.
-I only let Hunter play outside in the snow/slush for about 15 minutes yesterday. He immediately found a mud puddle to jump in and got soaking wet and dirty. So I let him have some fun and then back inside to the warmth we went.
-I only tried on two dresses this past weekend before making a decision on which bridesmaid dress I wanted for my brothers wedding. All the bridesmaids got to pick their own dress and I loved the second one I put on so I didn't feel the need to keep trying on more. The store owner said we were the easiest bridesmaid group she ever had. No one was super picky or difficult.
-I've been wishing more and more I could just be a stay at home mom. Work has been so stressful and frustrating the past few months. But on the weekends or snow days when I get to stay home with my little guy I find that I'm much happier and relaxed. Unfortunately it's not an option right now for financial reasons. Not to mention we all get insurance through my job.
-I really haven't done much to prepare for Hunters birthday party which is less than a month away. Fortunately I have off the two weeks leading up to it so I figure that's when I will do most of the planning.
-I haven't mailed out my Christmas cards yet (hopefully by tomorrow) and that I'm not sending out very many. Just to family and a few close friends. The last few years I sent out a ton, which is expensive, but didn't get many. So I figured this year I would save my money and only send cards to those that have sent to me in the past. Immature? Probably.

-I'm so sick of chocolate. This time of year we have a ton in our office from vendors and clients and after a while it just grosses me out.