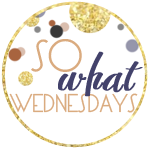 This week I'm saying So What if:
-I've stayed up past my bedtime the last few nights reading Divergent. I'm about 70% done and I love it so far. I like it just as much if not more than The Hunger Games and I can't wait for the movie.
-I was disappointed that our overnight "ice storm" turned out to be mainly rain. I had hoped to stay home with Hunter today but ended up at work instead.
-I laugh everytime Hunter says "dump truck" (which is often) because it sounds just like "dumb f*ck".
-I teared up during a few of the Super Bowl commercials (the soldier coming home and horse and puppy ones).
-I seem to be one of the few people that did not like Orange is the New Black. Kristian and I finally watched the first episode of it over the weekend after hearing/reading rave reviews. And it was okay but not something either of us had much desire to keep watching. I just don't find prison shows (dramas or comedies) that appealing.
-When I went to Target over the weekend to buy a birthday present for Hunters friends birthday party I ended up also buying Hunter a new toy, even though he wasn't with me. It was only $5 and I knew he would love it (and he did). It's hard not to spoil him a bit.
-I'm not really that excited about the Winter Olympics. I prefer the summer games and I'm annoyed it's keeping some of my favorite shows on hiatus for another few weeks.