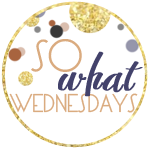 This week I'm saying So What if:
-After being out of the office for almost a week and a half due to snow and Kristians surgery I was actually happy to come back on Monday. It was nice to be able to just sit down and relax with a cup of coffee and get caught up on everything as opposed to chasing after a toddler and taking care of a recovering husband.
-I don't get the mass appeal of TOMS or those Freshly Picked moccasins. I don't find them to be that cute, especially for what they cost and more especially for babies/kids who feet grow by the second.
-I've become a bit obsessed with the Divergent trilogy, I'm close to halfway finished with the last book and I'm anxious to see how it ends, though I have my predictions. I'm excited to see the movie next month, from the previews it looks pretty close to staying true to the book.
-I'm thrilled the Olympics are over and my favorite shows are coming back--SCANDAL!!
-I refuse to wash or clean out my car until winter is over, we get a few nice days here and there but then turn around and it's snowing again and I have so much salt and dirt in and outside of my car right now. It's pointless to mess with until all the snow is gone for good.
-I lie to my kid and tell him that Mickey is sleeping when he asks to watch it for the 85 billionth time in one day. He pretty much accepts that answer though now he will say "wake up Mickey". It's kind of adorable.