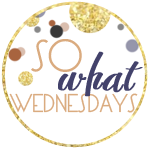 This week I'm saying So What if:
-I can't wait for it to be January. This is my busiest, most stressful time of year at work and I may lose my mind sooner rather than later.
-It's a good thing that a computer separates me from several people I have to work with or I would possibly do bodily harm to a few of them.
-I wish I could pay every person/bill that really annoys me all in pennies just to be a bitch. Hey it counts as money.
-I haven't bought or even thought about buying Christmas presents yet.

-The thought of decorating for Christmas makes me tired.
-I don't get the excitement over the red Starbucks cups or the need for everyone to post pictures of them. I do however, get the excitement over the Caramel Brulee Lattes. Those rock my socks off.
- Hunter only got a few pieces of his Halloween candy. Kristian and I ate the rest.
-I was happily surprised that DST didn't mess up Hunters sleep at all over the weekend, in fact he slept til 7am (or what would have been 8am) which is even later than normal. We were thrilled!