We are taking our engagement pictures early next month at Kristian's parents beach house. I'm hoping that we will get a nice day and that it will still be warm enough so that we won't be wearing sweaters in the sand. Since we'll have a few hours with our photographers I want to have at least two costume changes, that way we'll have a bit more variety among the pictures plus I would like pics with us in more casual attire (jeans and nice tops) and a bit more dressy (khakis and a sundress). Being the girl that I am I'm of course using this as an excuse to buy some new clothes (though I'm sure I have more than enough options already in my closet). I've been having a tough time finding exactly what I want and very well could end up in something I already own, which I
suppose
wouldn't be the end of the world.
Anywho I did end up ordering a dress online that I think may be a contendar. It arrived today and I immediately ran to the bathroom at work to try it on. Good news is that it fits! Hoorah! Bad news is that I'm not sure I like it on me as much as I do on the model in the picture. So I will have to try it on again at home with shoes/accessories to get the full affect. Regardless it's a dress I'll keep and can wear next summer so it's not a total waste. Here's a picture of the dress I'm considering: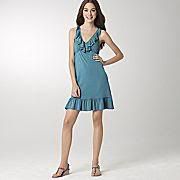 Question- would it be bad to wear the same dress for our pictures that I wore to our engagement party? I already have a bunch of pictures of me in it that everyone has seen already but I really do like the dress and how it fits and think it would be perfect for the engagement pictures. Thoughts??