I went shopping today to try to take advantage of any potential Labor Day sales and also in the hopes of finding something to wear for our engagement pictures next month. While I didn't have any luck in finding an engagement photo dress I did buy a dress for the Rehersal dinner! Yes it may be a bit premature seeing how the Rehersal dinner isn't for another 8 months or so but it's exactly what I was looking for AND on sale for only $20! Score! Guess that's what you get for buying a white dress on Labor Day!
Since I'm not doing the old dress switcheroo between the ceremony and reception (I'm spending enough on my wedding dress I want to get as many hours out of it as possible) I wanted to buy a cute short white dress for the Rehersal dinner instead (in case someone doesn't happen to know who the bride is already). Behold my Rehersal dinner dress which I bought at Papaya: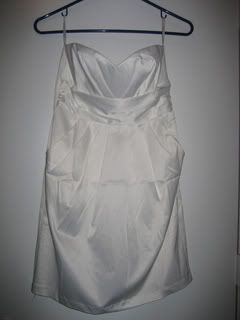 Cute right? It doesn't look nearly as good in the picture as it does in person, it's a tad wrinkly. It's strapless and even has pockets which makes it a bit more casual despite the satiny material. Now the only question is what shoes to pair with it? I'm not personally a fan of white heels so I was thinking maybe some strappy silver heels?? Thoughts?
At least I can check this off my list, now if only I could find something cute for the engagement photos I would be set.