Saturday night Kristian and I returned from a fantastic week in Jamaica. We left early- 5am! - Saturday the 9th. Our first flight down to Ft. Lauderdale went smoothly and we even had the chance to meet up with my friend Kristen and her husband who live down there during our 4 hour layover. We finally arrived in Montego Bay around 4pm. We made it thru customs pretty quickly and soon we were on a bus headed towards the resort which was a little over an hour away. On the way the bus driver filled us in on Jamaican life and the sights we were seeing. It was amazing to see some of the "houses" that Jamaicans live in. They look like they've been partially demolished. Apparently many Jamaicans live in houses while they are building them...the whole process can take years!
We pulled up to our resort, The Royal Decameron Club Caribbean, and we were very happy with what we found. Immediately the front desk staff was very friendly and before we even had our keys we were being served shots from the bar. We were then lead to our room which looked more like a hut. All of the rooms were in small stand alone buildings either right on the beach or back in the garden. We were in the garden section about 30 steps from the beach and most importantly the tiki bar. In addition to tiki bar on the beach there was a larger main bar next to the restaurant where we ate breakfast, lunch and dinner buffets. There were two additional restaurants on the resort. Everything was all inclusive which I have decided is the only way I want to travel in the future. It's sooo nice not to have to worry about bringing money everywhere and paying tabs and leaving tips. And if you order a drink and don't like it just order another! Fantastic!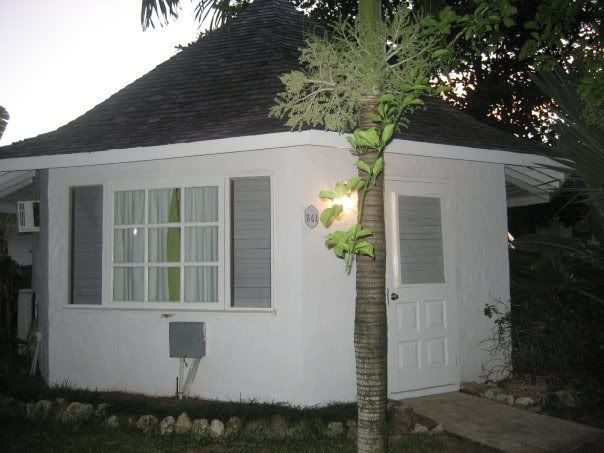 Our "hut of love"
Beach Bar
We spent most of our days the same way, we would wake up, have breakfast, lay out (I would lay out and Kristian would fish or snorkel), drink, eat lunch, drink, lay out, take a nap, shower, drink, eat dinner, drink, go to bed...lather, rinse and repeat. On Tuesday, aka my birthday, Kristian bought me a wonderful massage on the beach. I got to be massaged to the sounds of crashing waves. It was wonderful. We spent the rest of the day laying out and drinking and just relaxing. It was the perfect birthday!
On Wednesday we took a "highlights" tour 20 minutes away into Ochos Rios. We went to see the Fern Gully which was a drive up into the mountain rain forest area. Then we stopped in downtown Ochos Rios for some shopping. This was an interesting experience. We went into a "tent city" full of booths with people trying to sell any and everything. We did a bit of bartering and did walk away with some nice souvenirs but overall it made us a bit uncomfortable the way people were coming at us wanting us to buy their items. After that we went to the Dunn's River Waterfall, which is a huge, beautiful waterfall that you are able to climb. You are guided up the rocks and stop in areas with pools of water. It was definitely one of the coolest things I've done.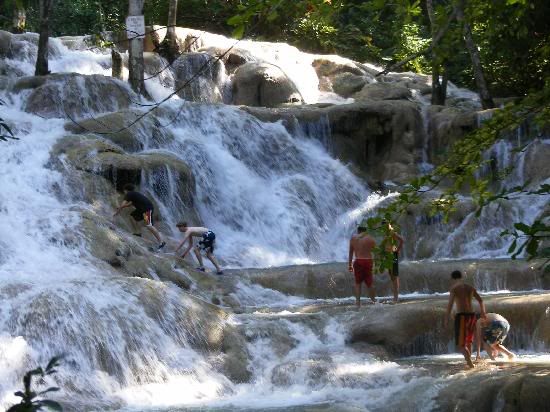 Dunn's River Waterfall
Other than our one tour day we stayed at the resort which was a great time. I was perfectly happy laying on the beach or by the pool while Kristian had fun fishing or snorkeling. We hung out at the beach bar quite a bit and got to know some of the other guests. There were a lot of Europeans, primarily British, and also several newlyweds. In fact we saw three couples get married on the resort the last day we were there. One of the couples we wound up hanging out with at the bar after their ceremony in the sand. Turns out they got engaged the same day we did!
One of the beach areas on the resort.
Not only did we get to know the other guests but the staff as well. All of the Jamaicans we met, both on and off of the resort were incredibly friendly. Kristian bonded with a lot of the guys over fishing and asking them for advice on the best way to catch fish down there. When he told one of the guys that it was my birthday he gave me a free bottle of rum, another went to pick 3 mangoes for me off the tree.
The weather was pretty good considering that May is one of their rainiest months. We always had at least a few good hours during the day for laying out on the beach. Almost every night however it would pour down rain while we slept, which was actually kind of nice.
The trip back to the States unfortunately wasn't as smooth as the trip down. We flew out during a downpour which lead to a 30 minute delay and a lot of turbulence! The delay lead to us only having 55 minutes in Ft. Lauderdale to de-plane, get thru customs, re-check our bags, go back thru security and find our gate. It was a very stressful hour and we were convinced we were going to miss the flight. Thankfully we were able to skip ahead of some people in the customs line, we threw our bags at the lady in the baggage area crossing our fingers they would get to DC, cut in front of a large line for security, got pulled to the side thanks to my stupidly putting a bottle of rum in my carry on, and literally RAN thru the airport to board the plane right as it was scheduled to leave. They ended up holding the plane for another 15 minutes to give everyone a chance to get thru customs that was on our first flight. The weather in DC was also bad and lead to even worse turbulence on the landing. We finally made it home after midnight.
Overall the whole trip was amazing. This was our first major trip together as a couple and traveling together for a week, especially internationally has the potential to end in disaster. You never know what someone else's travel style is until you are on vacation. Some people prefer to constantly be off sight-seeing while others prefer to just relax on a beach. Also, the way a person handles the stress of flight delays, bad weather and almost missing flights can potentially lead to conflicts. I'm happy to report that Kristian and I made it thru our first vacation with flying colors. We were almost always on the same page with what we wanted to do, never got sick of each other or bickered and laughed thru the stress of our trip home. It just further proves to me that we are a rock solid couple and I can't wait for our future travel adventures together.