Well I thought we had pretty much figured out where to have this little shindig I like to call our wedding, I contacted the coordinator and had her send over the proposal/contract. Once I reviewed it and saw the total price at the bottom with all the extras/taxes etc added in I almost cried. It was definitely a few thousand higher than I anticipated. Now I'm not sure that we'll be able to financially make it work at that location. So I've started researching locations again and I feel like my head might explode. With all the possible places to have weddings in the DC area you would think that would help bring the costs down due to over saturation but alas that's not the case. So while I'm still looking into venues in the NoVA region I've also started looking into what it would cost have a wedding at the beach. Specifically the Outer Banks, NC.
Kristian LOVES OBX, he goes down several times a year to fish and will even camp out on the beach. I also love going to OBX and have tried to go once a summer for the past few years. I use to go each summer with my Matron of Honor and her family who rents out a large house every year. It's always so relaxing and enjoyable. Last summer (right after I met Kristian) I went down there for a week with my own family who also have become big fans. Kristian and I can't wait to go down there together this summer.
Initially when we first started talking about a wedding he mentioned wanting to get married on the beach, preferably in OBX. While I really liked the idea my fear of planning an outdoor wedding and dealing with the possibility of rain made us veer away from the idea. However now seeing the prices of venues in the DC area and knowing how much cheaper things are in NC I think it's worth considering. I started looking yesterday and even contacted a place that is in Hatteras right on the beach called Kinnakeet Shores Beach Club. From the pictures on their site it could be a really fun and beautiful alternative if the price is right.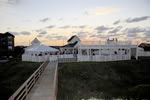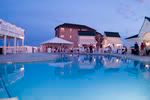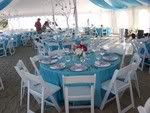 **Photos courtesy of Brook Mayo Photography and Daniel Pullen Photography