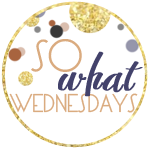 This week I'm saying So What if:
-I tried doing a sock bun for the first time today. I've seen this all over the Internet for MONTHS but never tried it until this morning. And yes I cut up one of my husbands socks to do it. It actually worked really well and looks good except I'm not used to having such a big bun on top of my head.
-I can't seem to stop ordering summer clothes online for Hunter. Granted I don't have much of a choice because the kid DOES need new clothes for the spring/summer since he's outgrown everything. Fortunately I've been able to get some good deals and use a few old gift cards so I haven't spent TOO much money.
-Having to order everything in a 3T to insure it lasts him through the summer makes me want to cry a little.
-I stayed up past my bedtime on Monday to watch that trainwreck of a Bachelor finale. I actually think it's more realistic to not propose or even say I Love You to someone after only dating a few weeks (while simultaneously dating other women) BUT Jauny P really was a dick about how he handled the whole situation. Clare dodged a bullet and Nikki needs to run far away, even his own family was trying to warn them away from him.
-If this past weekend was the first time I've washed a car (by myself with an actual hose and stuff) since I was a little kid helping my parents wash their car. Usually I just go through the car wash or have Kristian do it but he can't really do it while he's recovering and I didn't want to wait in a 2 hour line with every other person wanting to wash all the snow/salt off their cars during the nice weather. I also wanted to clean out the inside of the car which I did and it's SO much nicer now.
-I'm a bit obsessed with wearing my husbands shirts around the house and to bed, there are two in particular that I love to wear and we will literally fight over them. I try to tell him that wearing them just makes me feel close to him. haha. They are actually just super comfy.
-I'm incredibly frustrated that Hunter refuses to go on the potty at home. He apparently has no problem going at school and will go multiple times a day but won't do it at home. He sits on it fine and will even ask to sit on it but after a minute or so he says "All done" (without having done anything) and ask for his diaper (and then go in the diaper). I don't want to force him and make it a traumatic thing but it's getting annoying.

-I FINALLY finished Hunters 2 year photobook. Now I'm just waiting for a sale before ordering. I refuse to pay $100 for it.